Please download to your computer. Do not directly link the graphic to this page.
If you adopt a Baby Elephant, or a Worry Wart please link to Carol's Tree House.
Use this url: http://members.tripod.com/~Carol5
I'd appreciate it if you'd let me know if you adopt
cesmith@ucom.net


Adopt A Worry Wart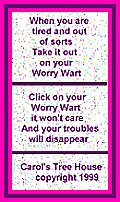 This page has been visited
times.